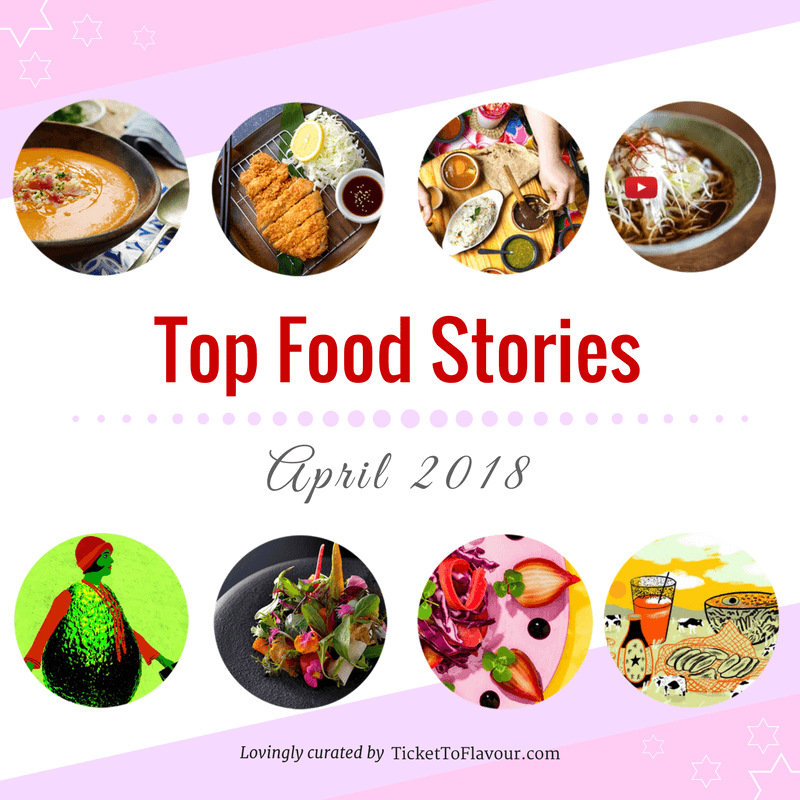 Here is our lovingly-curated list of last month's top food news and stories from around the world:
A Cultural History of the Avocado
By BBC Three
The rising popularity of Mexican cuisine over the years paved the way for the humble avocado (aka Butter Fruit or Alligator Pear) to be the rock star that it is today — a superfood, global ingredient, and symbol of a lifestyle movement. Today the web and social media are flooded with trendy and fashionable pictures of guacamole, avocado on toast, avocado smoothie, avocado salad,… you name it. Instagram returns 7.5 million posts and Google gives gazillions of search results at the mere mention of the name of this berry (yeah, avocado is botanically a large berry!). But it wasn't always so. Do you know the fascinating journey avocado — its name derived from 'āhuacatl' (a word in the Nahuatl language of Mexico and El Salvador) — took to become an icon? Get a taste of its rich and creamy cultural history in this well researched and beautifully written piece.
Around the World in 23 Local Dishes
By The Culture Trip
In a world increasingly getting filled with the same multinational fast-food chains, some of our most interesting memories of travel to a new place come from our experiences with their local food — don't you agree? Perfected over hundreds of years, passed down through generations, and laden with layers of history, each local dish tells a story — of the land, the people, and their culture. Be it Korean fried chicken in Seoul or Fish curry in Goa, Banh mi in Ho Chi Minh City or Bal kaymak in Istanbul,… each local dish widens your culinary orbit. So travel around the world with these 23 local dish recommendations and come back with a bag full of stories and a deeper appreciation of cultures. Bon voyage!
The Best Cooking Channels on YouTube
By Thrillist
If you love cooking, YouTube is undoubtedly an essential companion. From step-by-step cooking tutorials to professional cooking techniques, from knife skills to food stories, YouTube is filled with channels for everything. But wait! Did you know that more than 400 hours of video is uploaded to YouTube every single minute?!! Oh and this is only going to get bigger with growing Internet access around the world. Sure, there are plenty of cooking channels available on YouTube, but can you watch them all? Nope. Are they all worth your time? Maybe not. So when a trusted voice comes up with their top picks from time to time — and you may not agree with all of those and that's fine — that's worth their weight in gold. Here's a compact reference of currently active top YouTube cooking channels to help you be more creative in your cooking game. Happy watching and happy cooking!
A Guide to Eating with Your Hands Around the World
By Condé Nast Traveler
In Western dining, people normally use cutlery (spoon, fork, and knife) for having food. In Oriental (Chinese, Japanese) dining, chopsticks are considered standard. Yet in many other parts of the world — including large parts of the Middle East, South Asia, Africa, and South America — eating with one's hands (or hand-to-mouth dining) is the norm. In India, for example, "food is very, very personal" and eating with one's hands is a traditional way of enjoying food. In Ethiopia, dining is "an act of intimacy that harnesses the power of touch and food." And in Mexico, "The tortilla is the utensil." However, the art of eating with one's hands is not as easy as it looks. So here are some tips for that finger lickin' goodness!
Asia's 50 Best Restaurants 2018: The List in Pictures
By The World's 50 Best
"Showcasing Asia's ever-evolving gastronomic identity," the much awaited Asia's 50 Best Restaurants 2018 list is out! Chef Gaggan Anand's Bangkok restaurant Gaggan held the top spot on this coveted list for an incredible fourth year in a row. (By the way, Gaggan is planning to close his world-renowned restaurant in 2020.) Japanese restaurant Den and French restaurant Florilege both from Tokyo, Japan won the second and third spots respectively. Savour then, ladies and gentlemen, the 50-best list in pictures with stunningly beautiful signature dishes from each of the winning restaurants. And we eagerly look forward to The World's 50 Best Restaurants 2018 list which is not too far ahead either (to be announced in June this year).
The 101 Dishes That Changed America
By Thrillist
First, a heads-up: this one's a long long long read! Second, a recommendation: don't miss it! At the very least, just browse through the iconic photographs, or if time permits, the fascinating stories behind these 101 restaurant dishes that forever changed the way Americans (and many more across continents) eat for generations to come. From the Hot Dog and Caesar Salad of the early 1900s,… to the Cupcake and Avocado Toast of the late 1900s,… to the Rainbow Bagel and Heston Blumenthal's Meat Fruit of the early 2000s, they're all there — dishes widely emulated, endlessly adopted, and forever loved. Yeah, "life quite simply wouldn't taste the same without them."
Bowled Over: Our Favourite Bowl Foods from Around the World
By Lonely Planet
Bowled over by the bowl yet? Globe-trotting folks at the world's leading travel guidebook publisher Lonely Planet have come up with their best bowl food experiences from around the world. Nourishing, comforting, and colourful, bowl food is a big new trend. Perhaps no other food captures the essence of a country as much as a bowl bringing together the most popular flavours of the region. From Vietnamese pho and Mexican ceviche to Thai khao soi and Japanese ramen, all these iconic dishes have one thing in common — a bowl. (And if you're still hungry, check out the new Lonely Planet book The World's Best Bowl Food with 100 of the best recipes, their history, and tips to enjoy them in the most authentic way.)
The Essential Guide to Eating Texas
By Eater
Eater travel guides are well-researched collections of info about the food and culture of popular destinations and are always a joy to read. Its latest instalment takes you on a culinary and cultural journey across Texas (the second largest state in the United States) meandering through its popular cities of Houston, San Antonio, Austin, and Dallas. Though most famous for Tex-Mex (a fusion of Mexican and American food), Texas is actually a melting pot of cultures and cuisines celebrating its rich history of immigrants. Its dominant flavours (Tex-Mex, barbecue, burgers, breakfast tacos, etc.) are beautifully complemented by Czech (kolaches), Vietnamese-Cajun (crawfish), Italian (dumplings), and Indian (thalis) cultural influences. Explore the Lone Star State in this wonderful collection: "The 38 Essential Restaurants of Texas," "What to Do Between Meals in Texas," "The Texas Road Trip Roadmap," and more.
Let us know how you felt reading this month's top food stories — and don't forget to subscribe to our monthly newsletter!