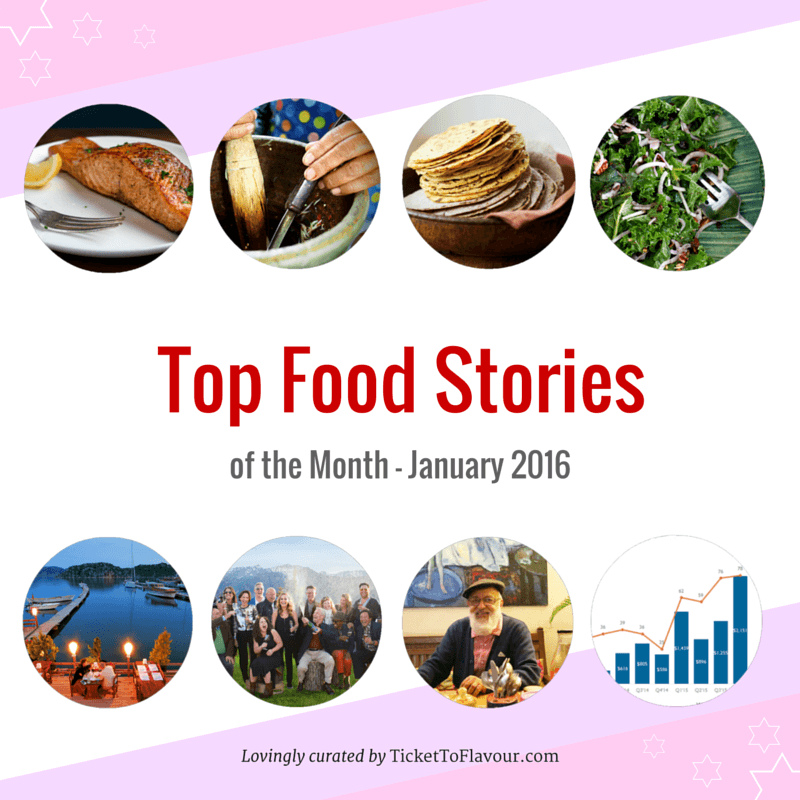 Here is a curated list of this month's top food stories from around the world.
How to Eat Street Food without Getting Sick
By Legal Nomads
One of the best ways to discover a new place and its culture is through its food. Especially its street food – savouring "the explosion of tastes on your tongue" amidst the glorious chaos of bustling markets. In this beautifully written piece, Jodi Ettenberg shares a handful of practical tips for eating street food safely, garnered through her years of extensive travel around the world.
No Food Is Healthy. Not Even Kale.
By The Washington Post
Beneath its provocative title lies an earnest attempt to make sense of the "infinitely malleable language of food" and how that affects our food choices. One of the most shared pieces of the month, this Washington Post article urges you to "know what it is you're putting in your body and why."
How to Cook Salmon
By The New York Times
Salmon, this "readily available, extremely versatile and simply delicious" fish is a popular food across many countries. And here is one of the best-written articles on cooking salmon – a crisp guide, as contemporary as it is timeless. Whether you're a novice or an expert at cooking, you'll enjoy its "weeknight fillets to weekend entertaining" coverage – everything you need to know starting from the necessary equipments, cuts and types to buy, to essential cooking methods, and sauces for dressing it up.
Where to Travel for Food in 2016
By National Geographic
Here are 2016's hottest food-travel destinations hand-picked by National Geographic editors. From the rich and soulful cuisine of New Orleans to the culinary crossroads of Sicily. From Tokyo's fourteen-course meals to Belfast's "Year of Food and Drink". Each loaded with a wealth of local knowledge and insider info – what to eat and drink, edible souvenir ideas, food experience tours, cultural tips, fun facts, and more.
Food Tech Startups Raise a Record $5.7B in 2015
By CB Insights
Food tech is piping hot right now, attracting record consumer interest and investor funding in 2015. Here is a rundown on which startups received the most funding (the ones you'll be hearing more about in future), and how different continents fared.
The Beginner's Guide to Tacos
By Chowhound
Love Mexican food? The thought of Mexican cuisine invariably evokes images of colourful, spicy, oh-so-yummy tacos. This Chowhound post is a celebration of taco's amazing journey, as it rose from the streets of Mexico to become one of the world's essential dishes. Tortilla tips, Mexican taco styles, party salsas, essential taco books, super-tasty taco recipes – find it all here.
24 Awesome Food Events worth Traveling to This Year
By Food & Wine
Here is a timely list, put together by Food & Wine, of 24 highly-anticipated food festivals to plan your travel around in 2016. This is your gateway to meeting top chefs, mixologists, sommeliers from around the world; sampling artisanal food products; celebrating unique culinary cultures; getting a glimpse of what's new in the market; and taking part in tastings, cooking demos, and all sorts of food- and drink-related experiences.
The Chronicler of Indian Food
By Al Jazeera
Dr Pushpesh Pant, "India's greatest living food connoisseur and cataloguer," is an inspiration to a generation of contemporary chefs. His book, India: The Cookbook (2011) was named one of the best cookbooks of the year by The New York Times. This brilliantly written essay, insightful and poetic in equal measure, is a tribute to Pant's illustrious 40-year journey of studying and popularizing Indian food.