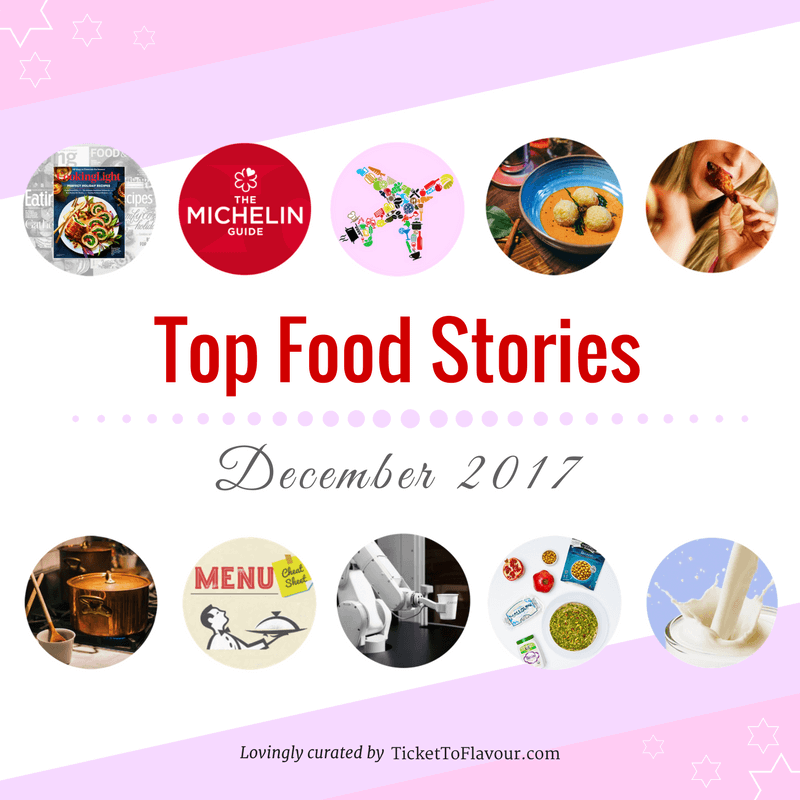 Here is our curated list of last month's top food news and stories from around the world:
Whole Foods Predicts 2018's Top 10 Food Trends
By Fortune
Whole Foods – the famous natural and organic foods supermarket chain (recently acquired by Amazon) – released its annual list of most anticipated food trends for 2018. Compiled by its global buyers and experts, these "up-and-coming flavors, products and culinary influences" are expected to hit store shelves worldwide (and your shopping basket) soon. Floral flavours, super powders, functional mushroom, clean labels, root-to-stem cooking, and Middle Eastern 2.0… here's a glimpse into the top food trends making their way to you. Happy New (Food) Year!
90 Food Menu Terms Explained
By Fine Dining Lovers
Ever found yourself sitting in a fine-dining restaurant and wondering what that item on the menu meant? Got confused reading à la carte, hors d'oeuvre, bisque, confit, flambéed, or a hundred such terms? Don't freak out! Here is a simple cheat sheet for those jargony words you commonly find on a restaurant's menu (originally curated by Bookatable) to simplify your life. Master the jargon and, the next time you are in a fine dining restaurant, order like a connoisseur!
South Indian Food Is Having a Major Moment in America
By Food & Wine
America is a melting pot of cultures and cuisines from all over the world. The Indian community is an integral part of this diverse American fabric and they have brought with them the legacy of their heritage, tradition, and food to this land. North Indians, the first wave of entrepreneurial immigrants from India, brought popular dishes like Butter Chicken and Chicken Tikka Masala. But now regional cuisines like Malabar-style shrimp curry, Chettinad-style duck roast, Rasam, Coconut Curry Prawns from Southern Indian states of Tamil Nadu, Telangana, Kerala and Andhra Pradesh are paving their way into high-end, Michelin-starred Indian restaurants in the USA. Renowned restaurants like Junoon in NYC to Campton Place Restaurant in San Francisco are redesigning their menus to incorporate popular South Indian flavours.
The Surprising Ingredients behind Common Foods [Video]
By BBC Future
In the world of processed food, what we eat is NOT always what we think we are eating! Food companies and flavour engineers often add artificial or substituted ingredients to enhance the taste, look, smell, and affordability of food. Did you know, for example, that your blackberry yoghurt might actually have carrots in it? Here's a short, less than 2-minute, video on some surprising ingredients in our common foods. So the next time you reach out for something on the store shelf, don't forget to check the label – who knows you might get a surprise!
When Robots Invade the Kitchen
By Wired
Artificial Intelligence and robotic automation are everywhere and changing the world today. How can our farm fields, kitchens, and plates of food be left untouched by this universal trend? You might have already heard of Sally – the salad maker, Gordon – the barista, or Koya and Kona – the Noodle Duo disrupting the food industry. Read the article to know more about some other sophisticated robots and their role in the kitchen. (And don't forget to watch the related video at the end: Robots & Us: How Food-Bots Are Changing How We Eat.)
These 22 Food Mags Will Be Owned by the Same Company
By Eater
In one of the biggest food media deals of the year, Meredith Corp. (the premier media company behind magazines like All Recipes, Martha Stewart Living, Eating Well, Rachael Ray Every Day) finally acquired Time Inc. (that publishes Food & Wine, Cooking Light, Southern Living, etc.). Both Meredith and Time publish some of the world's most popular magazines in the field of food, health, family, and lifestyle. With this acquisition, Meredith is now the proud owner of 22 popular food-related magazines.
FoodieTrip: Eating Like a Local Everywhere
By Forbes
To really know a new place, one should eat like a local. FoodieTrip, a US-based startup aiming to be the AirBnB of food experiences, can help you do just that. Imagine a local and passionate food expert waiting for you at your next travel destination to take you on an authentic and unforgettable culinary experience around their home city. Dine at best-in-town local spots, have home-made dinners with locals, attend a hands-on cooking session with a famous chef, go on a food-walk or a tasting tour among other options in more than 70 countries around the world. So where are you travelling next? Check out the local food experiences awaiting you there today!
The Top Countries for Michelin 3-Star Restaurants
By Statista
Almost a century ago, French tyre company Michelin started awarding stars to outstanding restaurants. The term "Michelin Star" has since then set the benchmark for fine dining excellence around the world. Michelin awards stars in three categories: a single star denotes 'a very good restaurant in its category'; two stars mean 'excellent cooking, worth a detour', and (the rarest and most coveted) three stars stand for 'exceptional cuisine, worth a special trip'. Only the best of the best restaurants in the world manage to get the three-star rating. Can you guess the countries with the most three-star restaurants? This year Japan tops the list with 28 three-star restaurants, followed by France (27) and the US (14). Checkout this Statista chart showing the top ten countries.
Why Most of the World Buys Their Milk at Room Temperature
By Curiosity
Walking into a grocery store in the US and Europe, you might find milk – one of the most common staples – stored at two very different places. While in America, you'll find it in the refrigerated section, but in Europe you are more likely to find it in a non-refrigerated regular aisle. Surprised? Whereas Europe and majority of the world use a type of pasteurization that can keep non-refrigerated milk fresh for months, the US and Canada prefer a type that lets milk (and refrigerated at that) stay fresh for only a week or so. As this interesting story points out, the answer is probably cultural, but times are also a'changing!
Zoosk Data Study: The Ultimate Guide to Food and Dating
By Zoosk
Does food play a role in how people feel about each other? The answer's yes as per Zoosk, an online dating site, which recently analyzed millions of dating profiles and first messages and surveyed thousands of singles. Here are some fun insights: Talking about food in your profile makes you more attractive; Guacamole, potatoes, and chocolate are the best foods to mention in your profile; Seafood is the most popular food to eat on a date; and Sushi is the favourite date-night food for millennials.
The Best Cooking Methods to Keep Nutrients Intact
By Greatist
Which is the healthiest cooking method? Microwaving, boiling, steaming, poaching, grilling, broiling, sautéeing, or no cooking at all? While raw foodists believe that uncooked food is the healthiest and maintains all its nutrients intact, other studies suggest some foods get healthier by cooking. For example, apart from making foods safer (and tastier!) in general, cooking actually increases the availability of nutrients and antioxidants in tomatoes (lycopene ), carrots (beta-carotene), etc. That said, the actual cooking method makes a lot of difference in preserving nutrients to various degrees in various foods. This article will help you better understand each cooking method to prepare that healthy and wonderful meal.
Let us know how you felt reading this month's top food stories in comments below, and don't forget to subscribe to our monthly newsletter!