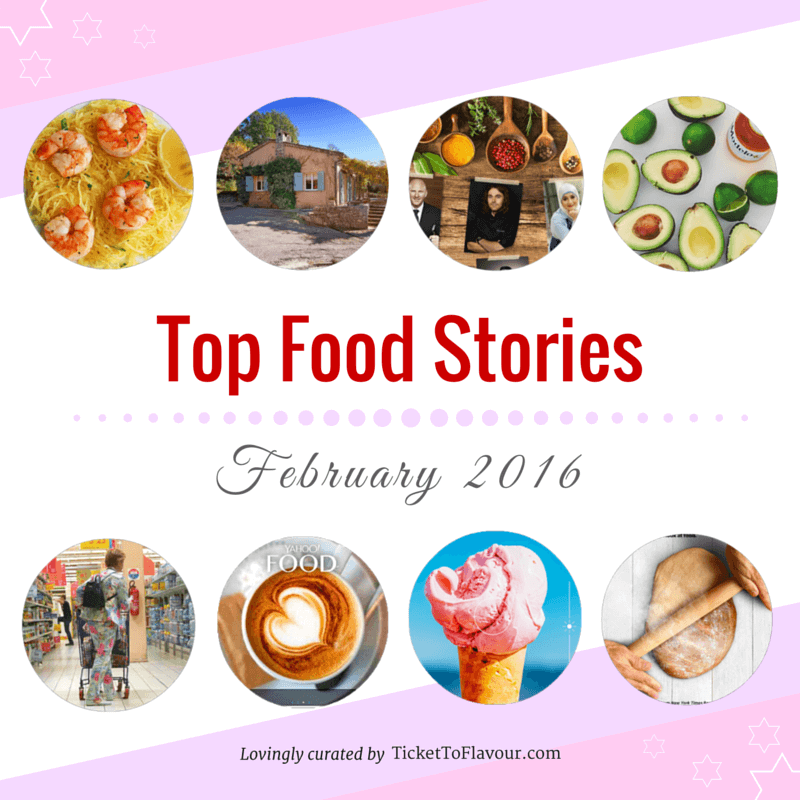 Here is a curated list of this month's top food stories from around the world.
No More Standing on Chairs: This App Promises Perfect Food Pics
By Mashable
Ever held your phone above your food, fervently hoping to take a photo as delicious as the food itself? Meet "Foodie," the new (free) camera app made especially for food photos (launched by the folks behind the popular messenger app LINE). What sets Foodie apart is its pack of nifty features: 24 food photography filters, "best angle" feature for horizontal gourmet-magazine shots, SLR-style blurred backgrounds, brightness adjustment and flashlight feature, and social sharing options.
Julia Child's France Home Will Become a Culinary Retreat
By Eater
Julia Child, the quintessential culinary legend, is best known for bringing French cooking to America. Julia and her husband Paul built their France home (named "La Pitchoune" or "the little one") during their stay in the early '60s. The home is now purchased by Makenna Johnston, who not only is a huge Julia fan but also shares her alma mater. The Johnstons plan to preserve Julia's legacy and make the home a culinary retreat. And there will be Yoga, too.
French Law Forbids Food Waste by Supermarkets
By The Guardian
This was one of the most talked-about stories of the month. France has become the first country in the world to ban supermarkets from throwing away unsold food. Instead, supermarkets will donate products nearing their sell-by date to charities and food banks. This article by The Guardian throws light on the background of this law and what it means going forward.
Netflix and Grill: Michael Pollan Takes His Food Evangelism to the Small Screen
By Mother Jones
In his New York Times best-selling book Cooked: A Natural History of Transformation, Michael Pollan took us on a journey through the fundamentals of cooking. Now a cinematic adaptation of the book (a four-part Netflix docu-series) brings this enchanting journey to life. Each episode takes up one primal element – Fire, Water, Air, Earth – and shows how we have used it through the ages to transform raw nature into nourishing food.
Life before Avocado Toast: The 16 Ways Dining Has Changed since 2000
By Bon Appétit
Year 2000 may seem like only yesterday, but a lot has changed in dining since then. Cultural currents, the spirit of the times, and the rise of millennials have brought about several new dining trends. Here are 16 such trends spotted by Bon Appétit: from the rise of the humble avocado toast, to the magnetic pull of food courts; from the now-ubiquitous food trucks, to the host-judge-celebrity-star chefs. And to think we lived without them once!
Yahoo Shuts Down "Yahoo Food" Site
By Eater
Yahoo Food, Yahoo's digital magazine covering the world of food, was born in 2014. In two short years that followed, it won many a food lover's heart with its original and syndicated content – all elegantly designed and passionately presented. So as Yahoo decides to phase out Yahoo Food this month, it'll be missed by its fans the world over.
Our Top 25 Healthy Dinners on Pinterest
By PopSugar
Millions of food lovers around the world use Pinterest, the simple and elegant visual bookmarking site, to discover and organize recipes. So much so that recipes are one of the most-pinned categories on the site (with more than 4 billion recipe pins already)! Here are PopSugar's top 25 healthy dinner recipes on Pinterest, each of which has been pinned thousands of times. Bon appétit!
Dubai Food Festival 2016 Kicks Off
By DubaiFoodFestival
Home to over 200 nationalities, the city of Dubai is rapidly emerging as the gastronomic capital of the region. Showcasing a slice of this staggering variety of cosmopolitan cuisine, the Dubai Food Festival is any food lover's paradise. The 2016 version, being held for 17 days (Feb 25 – March 12), offers an exciting calendar of culinary events: "from gourmet and avant-garde restaurant concepts to local haunts and hidden gems," from signature events to cooking masterclasses by renowned celebrity chefs. And more!