Here is an easy mango smoothie recipe — and some simple variations for you to have it just the way you like it.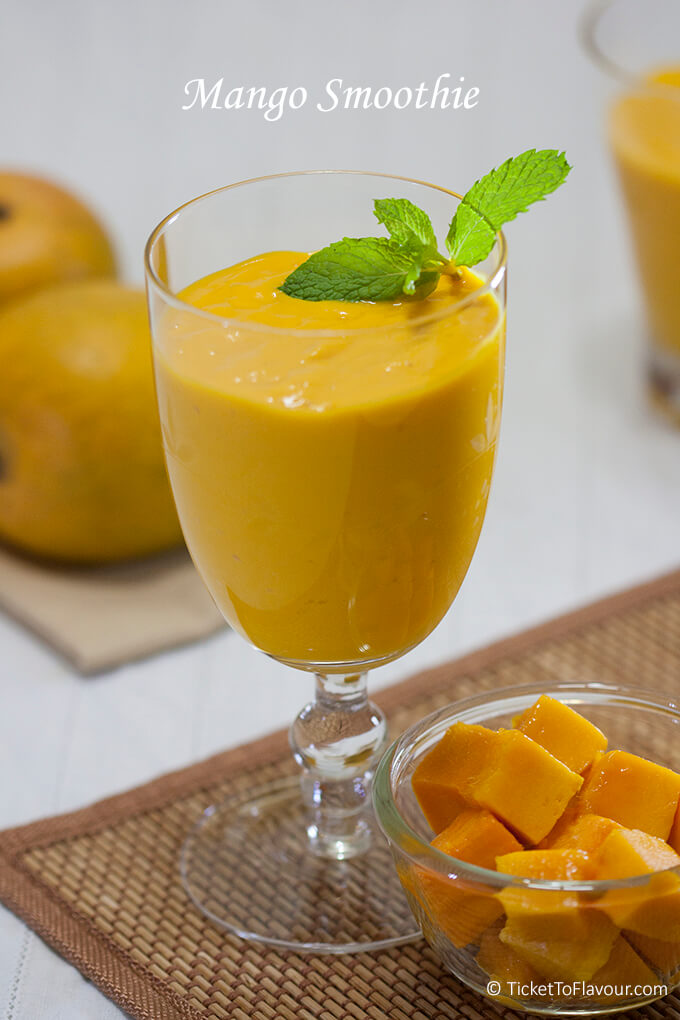 Mangoes! With memories they always come. In the backyard of my childhood home stood a giant mango tree. Its type, I cannot remember. All I remember is sitting under that mango tree and waiting for summer to come… To come and cover it with those full-red-ripe, delicious mangoes with that intoxicating aroma (which I can still smell, after so many years, when I close my eyes). The mangoes would unhurriedly hang from its branches, swaying in the breeze, looking at me, teasing me. I would fervently hope that one of them would somehow fall to the ground and that I'd immediately run and grab it and eat its juicy-sweet-tangy goodness till the last drop… Memories!
So here is a simple and easy mango smoothie recipe for the mango lovers in you and also for those who love to try out something new.
How to make mango smoothie
Mango Smoothie Recipe
Ingredients
2 ripe Alphonso mangoes, peeled, stone removed, and cut into small chunks
100 - 150 ml milk
200 - 250 ml yogurt (plain / vanilla)
1½ - 2 tablespoons sugar, or to taste (optional)
3 - 4 ice cubes
Instructions
Place the mango chunks, milk, yogurt, ice cubes and sugar (optional) in a blender or food processor.
Puree until it becomes creamy-thick and smooth.
Pour into a glass and enjoy, or keep it in the fridge until ready to be served.
Mango smoothie tips
How to adjust the consistency of the smoothie?
If your smoothie is too thick, add a bit more milk. Or else if it's too runny, add some more yogurt or one ripe banana while blending.
Can Alphonso mangoes be replaced with any other variety?
Absolutely! Mangoes come in many delicious varieties and everyone has their own favourite. Just pick any flavourful, fragrant, and non-fibrous variety (like Alphonso) for the best smoothie experience. Though fresh mangoes taste the best, if unavailable, you can also try frozen, canned, or pureed mango.
And what about milk?
Skim, low-fat, or full-fat milk — the choice is yours. (Similarly consider greek or low-fat yogurt.) You can also substitute it with non-dairy milk alternatives like almond milk, soy milk, or coconut milk to make it vegan.
How to reduce or replace the sugar in the smoothie?
Since Alphonso mango and vanilla yogurt (ingredients I used for this recipe) are naturally sweet, I didn't use sugar while preparing the smoothie. Sugar (or honey) is entirely optional — use it as per your taste and preference.
More smoothie ideas with mango?
Versatile as it is, mango can be paired with many other fruits and vegetables to make yummy and healthy smoothies. Here are some favourites: mango banana smoothie, mango pineapple smoothie, mango strawberry smoothie, mango orange smoothie, mango kale smoothie, mango spinach smoothie, and mango avocado smoothie.
Are you making this recipe? Do share your experience in comments below — and don't forget to subscribe to our newsletter!